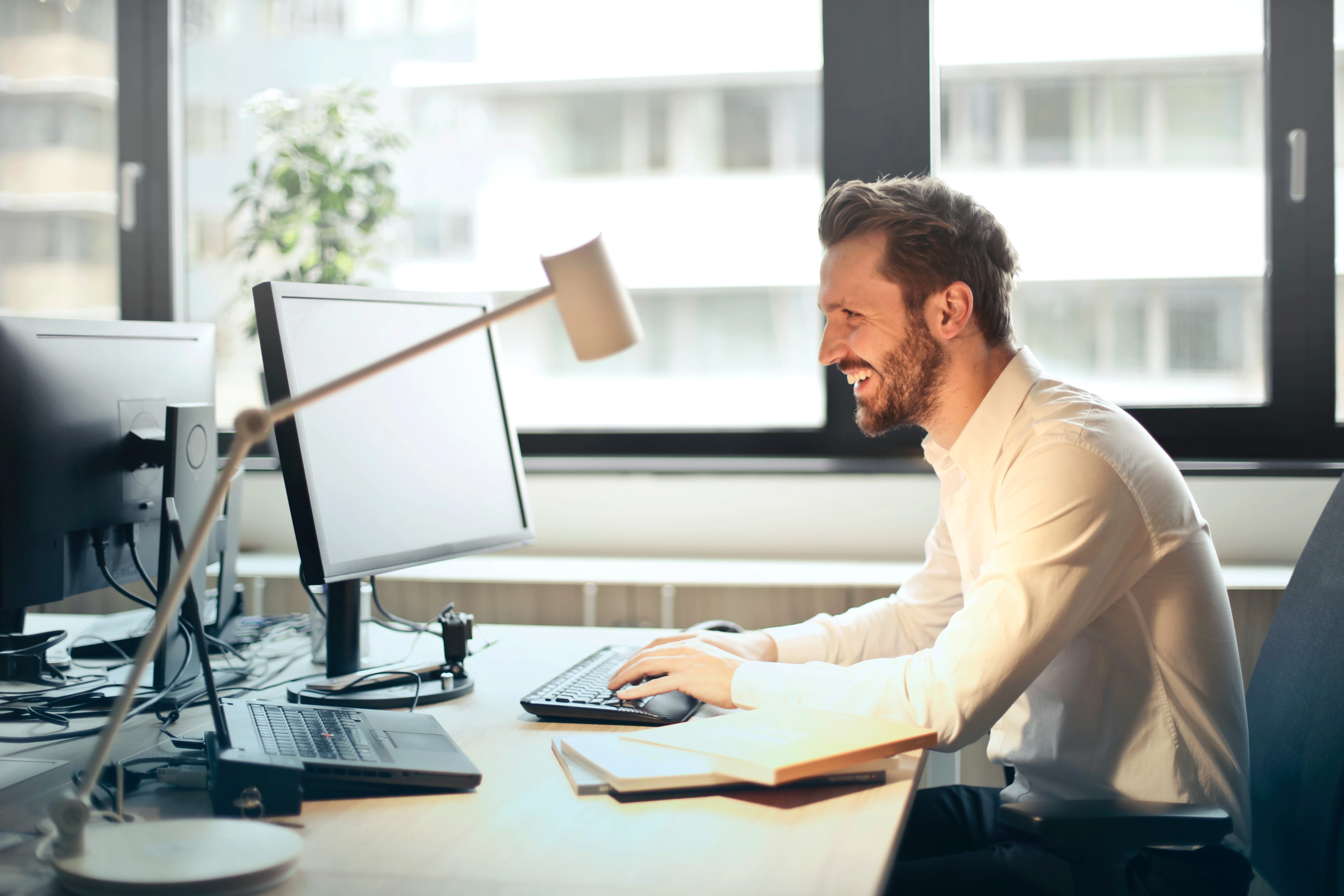 Benefits of Construction Management Software
If you are in the construction industry, chances are you've heard of construction management software. 
Maybe you haven't tried it because you are more into old-school record keeping and management methods. Or maybe you thought about trying one out but were too overwhelmed by all the choices out there.
If you aren't using construction management software, you are missing out on a tool that can:
In this article, we will give you an explanation of construction management software, tell you about its benefits, and let you know what you should be looking for when choosing software for your company.
CM Fusion: Project Management Software for the Construction Industry
CM Fusion is simple and flexible project management software for construction teams. It is:
Cloud-based — There is nothing to download, install, or learn. You just log in and start managing your projects on the cloud.

Easy to use — This software is designed with simplicity in mind to get you up and running in minutes.

Mobile-ready — It works on computers, tablets, and smartphones so you can access your projects wherever you are.
These features are a must in today's on-the-go world and will benefit you tremendously in keeping track of your projects.
With CM Fusion you can ...
Manage documents

Create daily field reports

Log project activities

Collaborate with your team members
… and much more.
CM Fusion keeps all your project data synced and accessible from anywhere, anytime.
What Is Construction Management Software?
Construction management software is a project platform that helps businesses keep track of the myriad processes they must oversee in their building ventures. So why is that an important tool for project managers to have? Let's explore further.
What Is the Importance of Project Management Software in the Construction Industry?
The ultimate goal of project management software is to make business processes easier through automation. If you have access to a tool that makes your job and life less complicated, why wouldn't you take advantage of that?
To show you just how much of a difference project management software can make, it has been estimated that employees who use it can save an average of 498 hours per year. That's huge!
The time you can save is only one benefit of using this software. Read on as we delve into a comprehensive list of its advantages.
8 Benefits of Construction Management Software
Benefit #1: Controls Business Costs
With construction management software you will have fewer people managing the paperwork, so you won't need as many full-time employees. Not only that, but most construction management software companies offer flat rate pricing. It is a fixed cost every month making it easier to budget.
Cost control can be one of the biggest challenges in the construction business, so being able to run your system with less manpower is a great advantage.
Benefit #2: Enhanced Communication
Poor company communications cost time and money. 
A survey has indicated that miscommunication to and between workers can cost large companies an average of $62.4 million per year, and smaller companies with 100 employees or fewer can expect to lose an average of $420,000 annually. 
Even if your company is much smaller than this, you can see how inadequate communication can be costly. This statistic scaled down to your numbers will still affect you greatly.
With construction management software, everyone is using the same channels to communicate and there are fewer ways to lose information.
A platform like CM Fusion takes no time to learn and is:
Simple to enter your data into

Collaborative; and

An easier way to communicate with necessary parties.
Benefit #3: Transparency
Construction management software creates a digital paper trail that is codified and trackable. It allows transparency in that it lets everyone see who has done what and when these actions occurred.
Transparency is created in two different spaces:
Offline — You can see what is happening on the job with images, field reports, and the like.

Online — Everyone is able to see who received which document, when it was opened, and who is relaying what information to whom.
The ability to track all this keeps everyone on the project accountable. The best part? There is zero technical skill required to manage these platforms. The work has a already been done to streamline the common operational challenges for construction managers.
Benefit #4: Proper & Efficient Reporting
There is a great deal of red tape surrounding construction projects. Some of the most important things project managers need to keep up with are:
Submission of local forms

Provision of certificates of insurance; and

Taxes
Failure to stay on top of these issues can not only be costly, but it can also end up tanking a project if they aren't properly managed.
Construction management software helps relieve the burden in this area by allowing you to file reports properly and efficiently.  
In addition, because fewer people are inputting the data as we mentioned before, there is less room for error in the paperwork that is so important for these needed forms.
Benefit #5: Document Management
Construction companies are required to keep documents for legal and compliance purposes. Different forms are required by:
Government entities

Clients; and

The IRS
There is also a repository aspect to the document management as you will be able to accumulate the history of forms that have been filled out in the past. This gives you easy access to all the things you've done before.
The process of using physical files for construction document management is outdated and inefficient, but construction management software keeps all your documents synced and stored with real-time status and tracking.
Benefit #6: Improved Customer Service
There are a couple of different ways that construction management software can improve customer service.
It contributes to efficient service delivery. Since this software helps construction managers complete projects on time and within budget, it is going to create happy customers.

It allows superior customer relationship management. Having one place to keep up with clients' information and attach important related documents will give your customers confidence that you are managing their information well.
Benefit #7: Increased Productivity
With construction management software helping teams stay on budget and on schedule, they can complete more projects as time goes on.
It also allows project managers to effectively control more projects and employees as business increases.
Gone are the days of having paperwork all over the place or multiple parties having different versions of important forms. With everything in one place, less effort goes into inputting and distributing information, and more effort goes into completing projects and getting more revenue in the door.
Benefit #8: Ability to View Lessons Learned
In your job, as in life, you should be learning something from each new venture you take on.
Construction management software allows you to make notes about each completed project that you can review in the future. If there were mistakes made or things you could have done better, you can look over these and make sure they don't happen the next time. For a full breakdown of
What to Look For When Choosing a Construction Management Software Program
With all the advantages listed above, you can now see that construction management software is an important tool to have. But with countless brands of this type of software on the market, what are the construction management software requirements you should be looking for that will be the most beneficial to your company?
For a complete checklist of what to look for in a construction management software, check out our article:
5 Questions to Ask Yourself When Searching for Construction Management Software
Ease of Use
Construction management software isn't going to be advantageous to you and your employees if there's a steep learning curve or it is generally difficult to use.
You want a solution that isn't unnecessarily complicated that you can jump right into using.
A great construction management software should be fast and ready to scale, allowing it to grow with your business.
Cloud-Based Management Software
A cloud-based construction management software program is accessible from any internet connection so that you're always a few clicks or taps away from all the information you need.
You also want to make sure the company you choose is doing daily data backups so you'll never lose valuable content.
Is it Collaborative?
When you can easily keep everyone in your group up-to-date with the latest information on your project, things will run a lot more smoothly.
A great construction management software will allow easy and seamless collaboration between team members.
Flexible Pricing Options
If you're just starting out in construction or run a smaller company, the cost can be prohibitive.
You want a software company that can offer flexible plans and pricing for all stages of business. Even better if they let you try it out for free first to make sure it fits into your business and lifestyle.
Specific Features That Meet Your Construction Company's Needs
Project management is a huge business, but most software solutions written for it are not geared specifically toward construction.
And even within the construction management software world, many versions have features you won't need or use within your company. 
When shopping for this product, you should look for the easiest and simplest solution that still has all the specific features you need to run your construction business.
Improve Your Business, Streamline Operations, and Control Business Processes With CM Fusion's Cloud-Based Construction Management Software
If we have convinced you that project management software for the construction industry would be beneficial for you and your company, then look no further than CM Fusion.
CM Fusion was created for everyone in construction. Our customers include:
General contractors

Sub-contractors

Specialty contractors

Construction managers

Architects

Engineers

Homebuilders; and

Property investors.
We allow you to manage all your projects in one place and do it from anywhere, and our software is easy to set up and use. CM Fusion tracks all your project activities so you can stay organized and work more efficiently.
CM Fusion features:
Document management

Scheduling

Daily field reports

Project tasks

Time and cost tracking

Change orders

Submittals

RFIs and RFPs

Bidding; and

Image management.
Your life is about to get a lot easier with CM Fusion. 
And best of all, we offer a 30-day free trial so you can make sure we are the right construction management software for you. There's no credit card required, and if you like it as much as we think you will you can sign up for a paid plan after your trial is over. 
We offer different levels of pricing that will fit your company — no matter how big or small.
CM Fusion: cloud-based construction management software that keeps construction teams better connected and organized. Let us start working for you today.
---
Try CM Fusion, risk free for 30 Days – Your first project is FREE!
If you are trying to figure out where to look now, our company CM Fusion offers a free version of Construction Project Management Software. Not to mention, our customers brag about it's ease of use, so you should be able to sign up and start managing your projects in minutes.